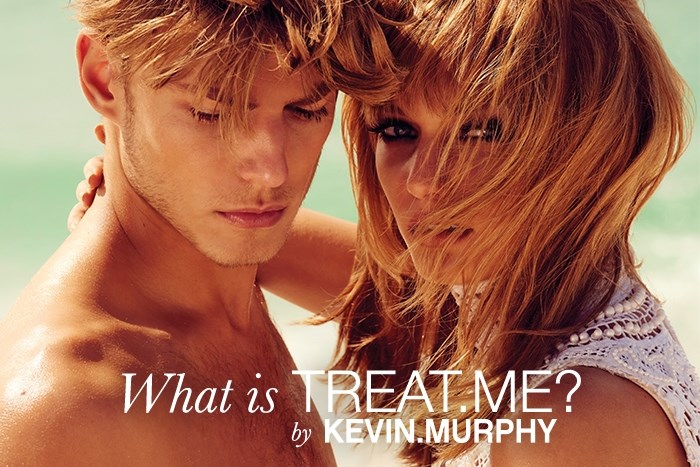 TREAT.ME by KEVIN. MURPHY,
available at Ringlets and Sass Salon
, is an in-salon backbar deep-conditioning treatment that's mixed on the spot for potency and extreme effectiveness.
This treatment system, described by Kevin Murphy as a "facial for hair," is a great benefit you should be receiving each visit in the salon. It is progressive and will last longer with each service. Once you feel and understand the benefits for your specific hair type, you will be asking for the treatment on your next visit.
How is TREAT.ME Different?

TREAT.ME is unique because the treatments come in highly concentrated serums. A serum accommodates a smaller molecule structure, which allows for better absorption into the hair's cortex. The ingredients are only mixed directly before application, which preserves their integrity and potency.
If the treatment was already mixed into a tub in mask form, a chemical stabilizer would need to be added, which could take the "life force" from the product and dilute its effectiveness, according to KEVIN.MURPHY.
TREAT.ME contains "Super Proteins" from vegetables and plants to easily penetrate and strengthen the hair shaft and repair damage created by heat styling and chemical services. The treatment makes the hair's surface supple, elastic and smooth.
TREAT.ME can be tailored to suit each individuals needs and will make the surface of your hair more supple, elastic and smoother.
Benefits: Sulphate Free, Reduces Breakage, For Damaged Hair, Increases Elasticity, Amino Acids, Antioxidant Rich, Colour Safe, Strengthens Hair, Alpha Hydroxy Acids
Book a ADD-ON TREAT.ME service to your next appointment here… Ringlets and Sass Appointment Booking Service.